What is it and when should I use it?
The Algorithm Maturity Level is a simple tool that can be very insightful when figuring out with a team where to start the AI transition and what goals to set. One of the important things to understand when thinking about AI and business is that it is difficult, or even impossible, to start with the holy grail an 'autonomous' system. There are many steps that you need to take before you get to that point (and, in many cases, it's really not what you want to go for, but that aside). Even Google can't do it from scratch. Google has a lot of these prerequisites so firmly in place that they now made it relatively easy to create more and better algorithms. Chances are, your organization has not (yet). So it's important to find the 'minimum viable algorithm' that will take you the first step. The Algorithm Maturity Level tool is one way to help bridge the gap between often lofty goals of autonomous systems back to what is needed today to take the first step. The tool classifies algorithms into five categories: Descriptive algorithms. These algorithms are able to accurately describe what is happening. For instance, accurately monitoring a system's behaviour and describing what is happening to users. The users are the ones that make sense of the information and decide to take action.
Diagnostic algorithms. These algorithms are able to accurately describe the causes that have led to the monitored data. For instance, in case there is an anomaly in the system's behaviour, they would be able to specify what likely causes.
Predictive algorithms. These algorithms can give predictions for the system's future behaviour. An example is the system in your car that predicts when traffic ahead of you will use their brakes, warning you.
Prescriptive algorithms. Algorithms that give options for actions based on the system's behaviour, and prescribe a course of action. The algorithm influences on the decision process, but it does not make the decision. The user can still intervene. An example is the system in cars that takes automatic action to steer the car to a different lane in case of an accident.
Autonomous algorithms. The algorithm completely monitors and controls the system, without any human intervention. An example is a fully autonomous car.
Each level builds on the previous levels. That means a prescriptive algorithm also has the capabilities of a predictive algorithm.
Tool Overview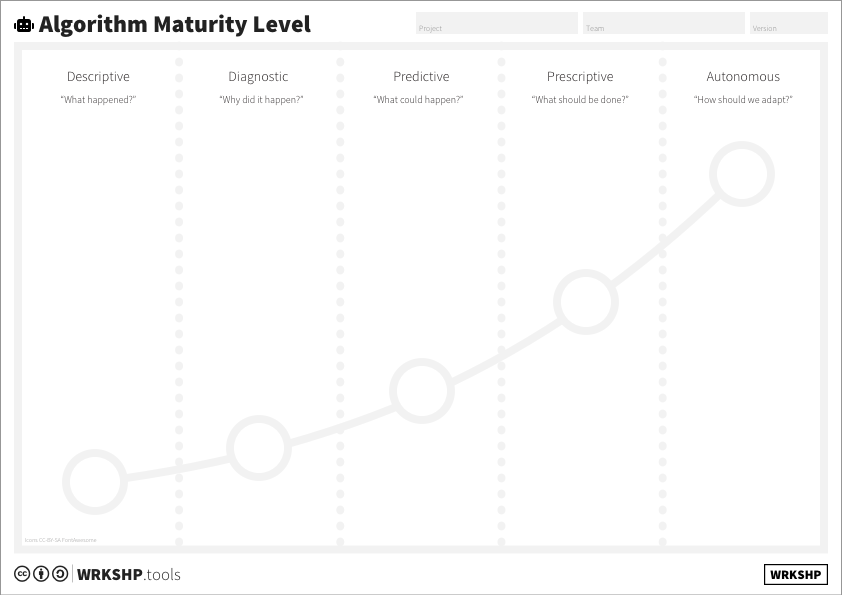 Steps