What is it and when should I use it?
The Customer Journey is a tool to help you get insight into, track, and discuss how a customer experiences a problem you are trying to solve. How does this problem or opportunity show up in their lives? How do they experience it? How do they interact with you?
Mapping this journey will provide you with insights into how customers experience a product or service, as well as how they might be better served or even delighted. This is especially true when co-creating the journey together with your customers or when validating your assumptions with them. What are the circumstances? How do customers feel throughout? What are the moments when the experience can best be improved?
Customer journeys are not linear. A customer can jump from one phase to another depending on many factors. They interact with some touch points and miss out others. It is your job, as a designer, to understand the moments when customers engage so that you can design better experiences for them in the future. This tool helps in looking at your products and services through the lens of the customers.
Of course, no customer journey is totally complete or made without assumptions. Mapping the customer journey is based on the knowledge and insights of your team. This tool simply helps you understand and explore from the customer's point of view.
The customer journey canvas helps make things real. Through the mapping exercise you can identify where customers get stuck, where they have great experiences, and why. One outcome of using this tool with your team will be the so-called low hanging fruit that you can deliver on immediately. Once you have co-created and assembled the customer journey maps, you can add real customer data gathered through customer safaris, interviews, and feedback. This will enable you to make informed decisions based on reality.
The customer journey is relevant for everyone. Everyone on the team, and in your company, must understand what your customers experience, how they feel, what they struggle with, and how you can improve the experience. The underlying goal: to solve our customers' problems and make them happy.
Tool Overview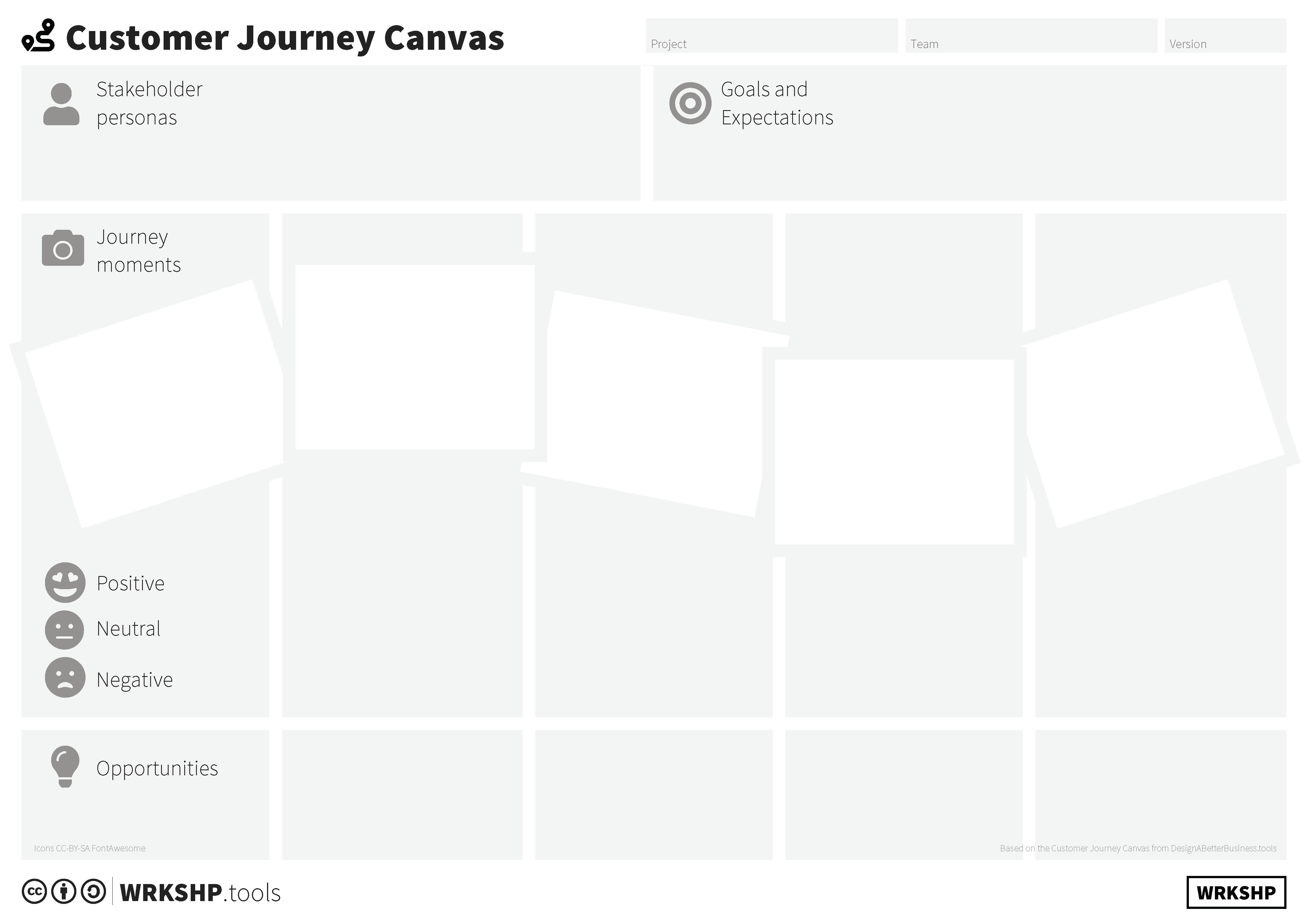 Steps