What is it and when should I use it?
When innovating, it is important to find the right problems to solve, be it for your own startup, or a customer's problem. That often involves digging deeper below the surface to uncover the real reason the problem occurs. If you know that, you can solve the problem in a more meaningful way.
Is your startup suffering from low retention? Then this tool may help you to come up with reasons this is happening.
Did you observe that customers can't complete their Job to be Done with satisfaction? This tool can help you to come up with potential causes to validate with your customers.
A cause-effect diagram is a visual tool designed to help you explore and identify possible causes for a problem or an observed phenomenon. This helps you to come up with possible root causes for the problem you observed, that you can then use to build experiments around.
The cause-effect diagram visualizes the complex reasons a problem might occur visually so it is easy to understand and discuss with your team.
Tool Overview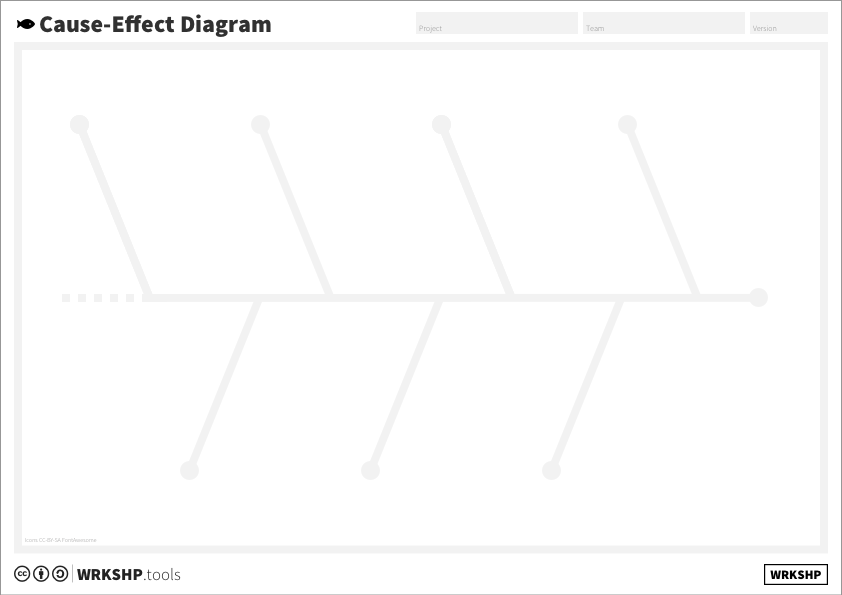 Steps
2

Brainstorm major causes

Now that the effect has been identified, it's time to define the major causes. The main goal of this step is to identify the main areas causes could come from, as a basis for a more detailed examination in the next step.

Start by looking at the effect sticky. Ask the participants to come up with the main constituent parts of the effect.

For example, let's say you want to investigate an effect you observed on your subscription service, which you labeled 'low customer retention'. Try to brainstorm the building blocks for that effect.

For this 'low retention' example, there could be several causes. We want to find the major groups of causes.

Ask team members to brainstorm for 5 minutes individually, coming up with reasons for this low retention, looking at this from a customer's perspective. Prompt them to think about reasons the situation might occur, no matter how far-fetched.

They might come up with reasons such as:
Customer thinks the service is too expensive
Customer does not see the value
Customer forgets to renew
Customer did not see the renewal email
Customer's credit card was declined
...
Put each of these answers on a sticky note, and cluster them by themes you spot in the stickies. This will give you your major causes. In the example, labels could be:
Conscious decision: the customer thinks it's too expensive, or doesn't bring enough value.
Accidental decision: the customer forgets to renew, did not receive the renewal email.
Process problem: the customer wants to renew, but the payment fails.
...
Try to come up with 3-5 major causes. Place your major causes on the end of the branches of the cause-effect diagram. Finding major causes and clustering will help you to come up with more potential causes in the next steps. Look at the Customer Journey or the Job Map to find more potential causes.